Photo from Civil War Database
Bio:

Ben Stone,Jr was born on December 28, 1817 in Dorchester, MA. His parents were Benjamin Stone,Sr. who grew up in Chesterfield County, New Hampshire and Sarah Davenport Stone who grew up in Dorchester. Benjamin Stone Jr worked as a music engraver in Boston on 277 Washington Street. At the age of 43 he was mustered in as the captain of Company "K" of the 11th Regiment of the Massachusetts Volunteers. He was wounded at the Second Battle of Bull Run in Virginia on August 29, 1862. Due to his injury he needed to get his leg amputated he later died on September 10, 1862 in Washington,DC at the age of 44 due to complication from getting his leg amputated.

Service:

Benjamin Stone Jr served in the 11th Regiment of the Massachusetts Volunteers. They were known locally as the Boston Volunteers. George Clark, Jr was a large influence on the creation of the regiment, He became the first colonel of the regiment. In the First Bull Run it was one of the regiments from Massachusetts to fight. After Bull Run it became part of the Hooker Brigade. From there they moved around a lot in the Peninsula area. Then came the Second Bull Run where Ben Stone, Jr. was mortally wounded. The battle was won by the Confederates led by Robert E. Lee with his 55,000 men. The Union was led by John Pope; they had around 70,000 men. The death toll was around 13,824 for the Union and 8,353 for the Confederates. Ben Stone,Jr. was one of the 13,824 casualties on the Union, ending his service around a year in the military. He was 44.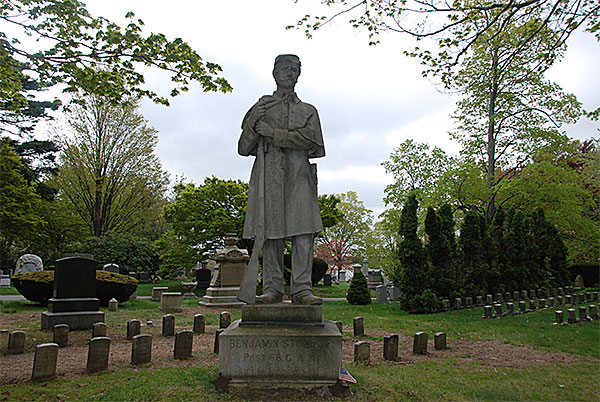 Photo From Cedar Grove Website
Post and Statue:
The Grand Army of the Republic (G. A. R.) was a fraternal organization founded in 1866 to unite Union soldier veterans after the Civil War. The Massachusetts Post 68 of the G. A. R. was founded by a group of veterans who largely resided in the surrounding towns of Boston such as Dorchester. Early on when the Post was founded, the members secured a large lot of the Cedar Grove Cemetery as a resting place for any of the members who wished to be buried together there. On October 25th, 1903, Associate member of the Post 68 Thomas F. Temple who was a lifelong resident of Dorchester, unveiled a monument gifted to the Post that would rest in the lot reserved in Cedar Grove Cemetery. The monument was a statue of Benjamin Stone Jr. who, served as a symbol of honor to Post 68 and everyone who served the Union forces during the war.
John F. Fitzgerald photo from Library of Congress
"In selecting the name of Capt. Benjamin Stone, Jr., as a title for post 68 of the Grand Army of the Republic you have honored yourselves in honoring him." – John F. Fitzgerald Mayor of Boston – (The Dorchester Athenium Derived from Bob Severy's Lot 53 Research)
Here is a quote from Temple's speech that he gave when presenting the statue, where he highlights the amount of suffering faced by the Union:
"In remembrance not only of our Dorchester soldiers, living or dead, but also in remembrance of the vast numbers of heroes who gave up their lives on the field of battle, in the hospitals, in the prison pens of the south, and on the sea, in remembrance of all who died, and dared for the perpetuity of the nation, I present this figure, representing the union volunteers of the civil war, through you, Mr. Commander, to Benjamin Stone, Jr., post 68, G. A. R., with my best wishes for its success and continued prosperity." – Senior Post 68 member Thomas F. Temple - (The Dorchester Athenium Derived from Bob Severy's Lot 53 Research)