Located in Dorchester, a small and historically rich suburb of Boston, the Cedar Grove Cemetery is a snapshot of the early United States. This cemetery is full of rich history both in the town and surrounding areas and in the cemetery itself. Dorchester was settled in 1630 along with Boston, by the English colonists arriving from their journey across the ocean.
This is a document from the Civil War, issued by the mayor. Shown here courtesy of the Boston Municipal Archives.
Since then it has grown along with Boston, becoming an official part of the city in January of 1870. The Cedar Grove cemetery was founded in 1869 by the town and received its first burial in 1870. The cemetery was controlled by the town for five years before it was made a private entity, managed by a board of trustees. They have received many burials from all the wars the United States has been involved in, and from general town necessity.
The Name Cedar grove originated due to the many cedar trees that are located around the 40 acres of land. The deeply historical graves are perfectly marked with headstones originating from Lee Quarry located about 125 miles west of Boston In Lee, Massachusetts. Millions of headstones have come from this quarry to give the final monument for deceased people.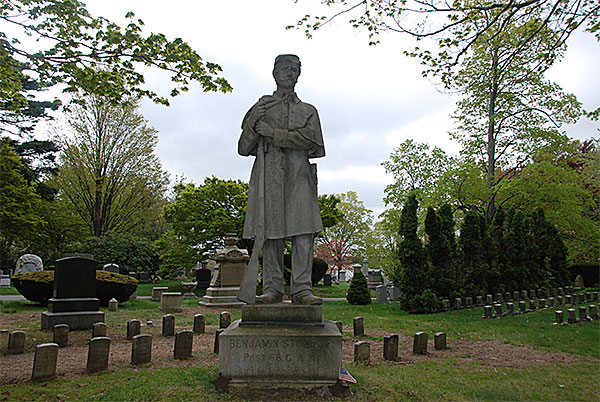 This historical Civil War monument in the cemetery keeps guard over the fallen soldiers buried on the grounds. This monument depicts Benjamin Stone Junior, a commander during the war.
Many important people have been buried in Cedar Grove; these solemn grounds are the final resting place for more than 45,000 burials. Many mentionable people have been buried here, such as Civil War Veterans, Notable figures of Boston, and even the past caretakers of the cemetery. As one walks through the meticulously kept lawns and gardens that surround the dim glimmer of the marble headstones it gives a sense of reflection and a historical past that these monuments represent.
This minor enlistment form was filled out by parents of the minor who are sending him off to war. Many minors enlisted at the time, many being volunteers who were simply too young to enlist and many being sent away by their parents.
Perfectly placed by the entrance is the Eugene A. Human Chapel, a small but humble chapel with a vivid stained-glass window that catches the eye on the front of the structure. Inside the chapel, visitors can find pews and an altar where they can pray and meditate.
This is a document from the Civil War stating that a Mr. William Leach volunteered himself for service in the military. Many soldiers during the Civil War were volunteers.